According to the UNFPA, the world is undergoing the largest wave of urbanization. Currently, 56% of the world's population – 4.4 billion – live in urban areas, which is set to grow by 1.5 times by 2045 to 6 billion. Needless to say, with rapid urbanization, demands for affordable housing, hospitals, schools, and infrastructure will grow exponentially.
To avoid worsening the current climate crisis, the built environment's growth needs to happen without hurting the natural environment. The question is how?
If done right, urbanization has the tremendous potential to transform the local economy. We can make the difference with BIM. By leveraging this transformative and collaborative tool, we have
already helped 5000 construction projects reach completion in the most efficient and cost-effective way. It's time to leverage our technology to make the growing built environment greener and more sustainable. In this article, let's explore how we use our BIM technological expertise to make the construction sector more sustainable and forward-thinking.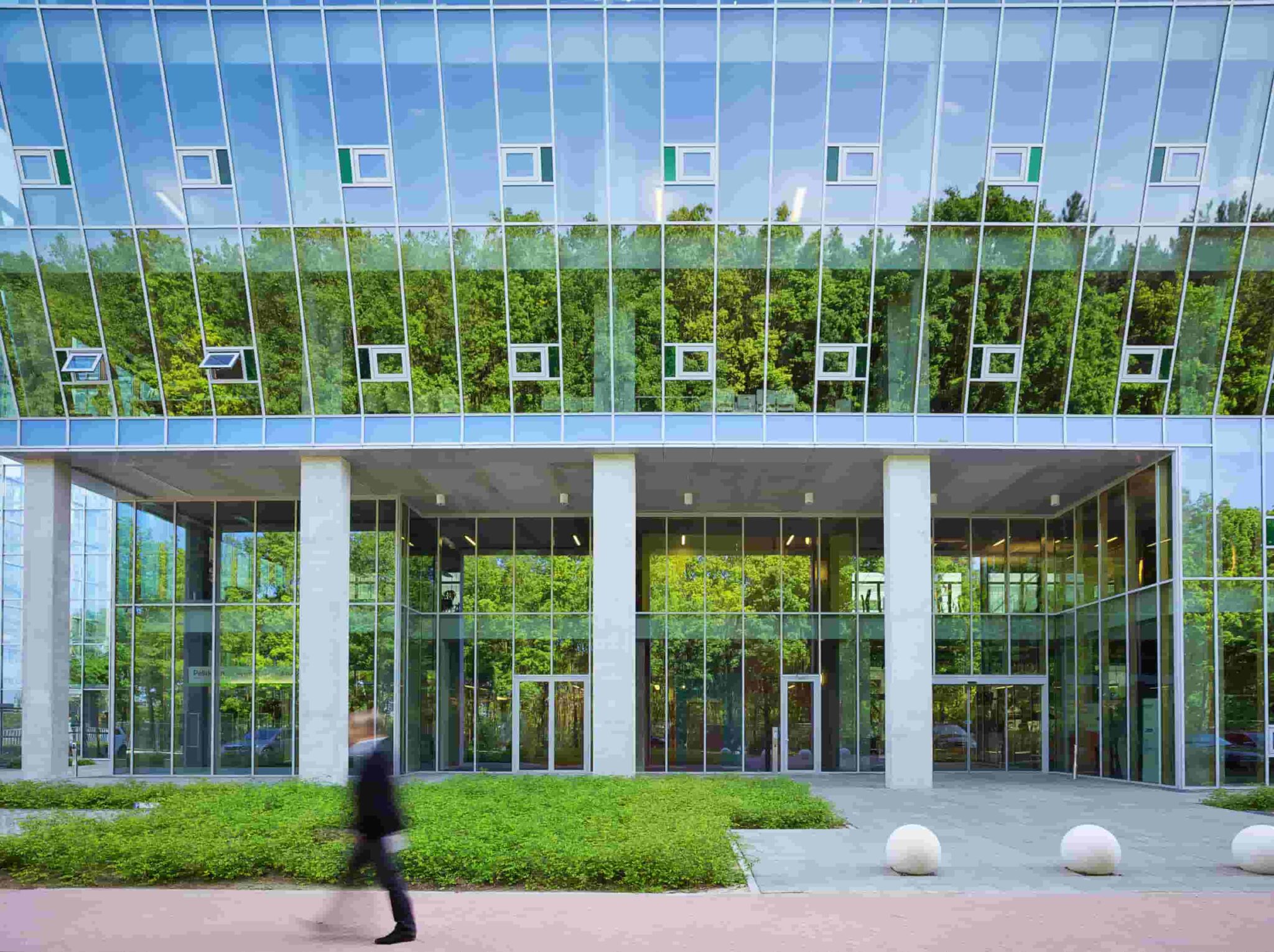 BIM: THE MOST POWERFUL TOOL TO ACCELERATE SUSTAINABILITY IN AEC
Sustainable construction is all about meeting the growing population's housing, commercial, and infrastructure needs efficiently and without hurting the environment. It calls for an innovative
approach that minimizes impact on the planet while maximizing economic and social gains.
As one of the largest BIM service providers, ENG possesses revolutionary technological capabilities. We have the chance to facilitate collaboration between teams, capture accurate data, and optimize workflow throughout the project lifecycle. We use those capabilities to focus on building sustainability into our projects!
Luckily, BIM fits brilliantly with a sustainable philosophy. Here's how ENG uses it to drive the construction industry towards a more resilient and sustainable future.
6 IMPORTANT WAYS WE CAN HARNESS BIM FOR SUSTAINABILITY
1. REMOVING INEFFICIENCIES WITH MULTI-DISCIPLINARY COORDINATION
The sustainable construction philosophy heavily focuses on eliminating inefficiencies. So, it's crucial to look for ways to minimize potential clashes and avoid duplication of efforts.
BIM's multi-disciplinary coordination process makes it possible to combine architectural models, structural, HVAC systems, plumbing systems, electrical systems, and prefab models. This way, we can help clients visualize the myriad of systems that work together in a building and avoid re-work during the construction phase.
2. IMPROVING PRODUCTIVITY, SAFETY, AND SUSTAINABILITY WITH PREFAB CONSTRUCTION
An estimated 2.5 trillion sq feet of buildings will be added by 2060 to meet the growing demands of urbanization. Industrialized construction processes such as prefabrication and modular will become critical in meeting infrastructure demands while utilizing fewer natural resources, reducing emissions, and optimizing material usage.
We can leverage BIM to create LOD400 wall assemblies, ceilings, bathroom pods, and other components with buy-in from all trades. The virtual model is then prefabricated offsite to save time and cost during field construction. BIM + Prefab is a winning combination capable of boosting a project's sustainability as well as the client's bottom line. Here's why:
Environmental Advantages
In prefab and modular construction methods, building components are assembled offsite in a climate-controlled plant. This significantly lowers the risk of damage to material from dirt, moisture, and other environmental elements.
Assembling in a factory controlled environment also minimizes waste as extra materials get recycled instead of ending up in a landfill, as in the
case of traditional on-site construction.
Efficiency and Cost Advantages
Since it happens off-site, modular construction offers significant health and safety benefits in terms of better work conditions. When paired with BIM, productivity and efficiency advantages become even more substantial. Through BIM's sophisticated modeling, we can help streamline workflow and improve labor productivity for our clients, which is vital in an industry struggling with skilled labor shortages.
BIM-driven prefab projects boast higher quality and faster build time than traditional construction. According to a McKinsey Research report, the productivity benefits from prefab constriction can deliver a staggering $22 billion of annual cost savings in the United States and Europe by 2030.
3. IMPROVING WORKFLOW EFFICIENCIES AND LOWERING COSTS WITH 4D AND 5D MODELS
In construction, everything takes longer than you plan for, right? Not anymore. We can incorporate realistic timelines into design that help visualize the planned construction sequence. These
time-animated models are powerful in identifying efficiencies, scheduling conflicts and logistical issues between different trades, and coordinating with stakeholders to fix them. Of course, we can also use the cost dimension to carry out cost-benefit analyses. Not only does this improve budgeting and help with value-engineering, but also enables us to quantify cost savings for our clients when they opt for more sustainable choices like solar energy and better insulation.
4. EVALUATING THE SUSTAINABILITY QUOTIENT OF THE PROJECT LOCATION
As the first step of a construction project, knowing the environmental factors is key to creating green structures. By pairing techniques like laser scanning and photogrammetry with digital modeling, BIM can help construction teams digitize the existing conditions of the site location.
There are two ways this can help boost the sustainability factor of a project. First, a high-precision BIM replica of the space will help teams design, coordinate, and prefabricate in the most time
and cost-efficient way. No need to keep going back to the site during the planning and design phase. Secondly, by using BIM to assess a site with different solar exposure and wind speed scenarios, we can design around on-site renewable energy systems and long-term resilience.
5. SIMULATING ENERGYEFFICIENT BUILDING
The buildings in the U.S. account for 40% of energy consumption. With the help of BIM, we can improve the energy efficiency of new and existing buildings to reduce the energy bills spent on
cooling and heating. A fully digitized replica of the structure can help us understand its behavior way before the build starts.
We can then use the captured data and simulation tools to identify areas that can be made more energy efficient. Take daylight feasibility, for instance. With the help of BIMenabled orientation data, solar loads, and shadow analysis, we can help zero down on a configuration and window layout that optimizes natural lighting. Incorporating green areas, better insulation, and ventilation are other areas where we can use BIM to create a healthy and productive indoor climate while minimizing energy consumption.
6. MONITORING AND MANAGING SUSTAINABLE BUILDING OPERATIONS
Sustainable construction extends well beyond the design and building phase to include the long-term use and maintenance of the finished structure. BIM makes it possible for owners and facility managers to access detailed design and construction information needed for operating the building to its maximum potential. By tracking energy and water consumption as well as waste generation, we can easily verify if the structures are functioning as sustainably as planned during the design phase.
FINAL THOUGHTS
According to IPCC Sixth Assessment Report, climate change adaptation is the process of adjusting our behavior and adapting our infrastructure to deal with the changing climate. From making sustainable lifestyle choices to planning green cities and settlements, every step is vital for surviving and thriving in the face of climate change.
The same report also emphasizes the importance of private and business investment in key infrastructure, housing construction, and insurance when it comes to driving adaptive action. As a leading BIM technology company, the onus is on us to help our AEC clients design, construct, and operate sustainable projects.