Framing Prefabrication BIM Modeling & Modular Construction BIM Services by ENG
ENG counts with a team of BIM experts for framing and modular construction that build long-term partnerships with our clients.
We act as a true extension of their CAD/BIM departments, with deliverables created by implementing a series of scripts, plugins, and workflows that make the process very efficient and allow to save time later in the installation, within the usual tight construction schedules.
Metal framing BIM Modeling can be performed for different purposes, not only for Prefabrication but also in a more simplified manner, as a reference for Coordination with other trades.
BIM Services we provide:
BIM models creation
BIM Coordination with other trades: process and meetings participation
Layout/Installation files or drawings
Shop Drawings or prefabrication files
Quantity Take-offs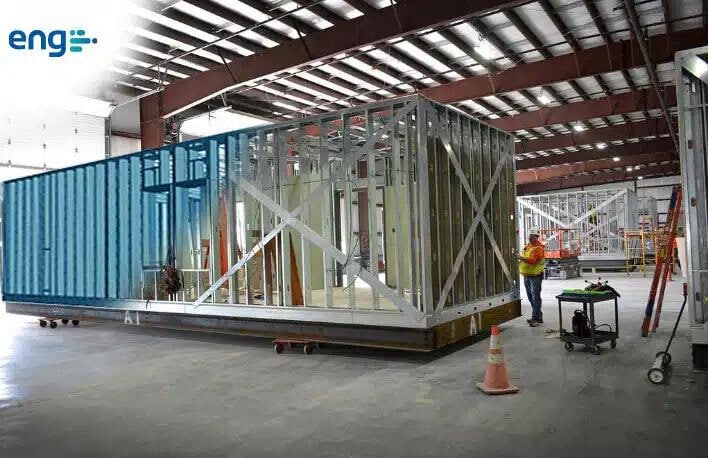 Leveraging BIM for Fabrication Level Efficiency
Building Information Modeling can bring significant improvements in construction when leveraging the models to Fabrication Level of Detail.
These virtually developed panels or rooms will be prefabricated in a shop within a controlled environment. Building more components offsite through digital fabrication helps to increase efficiency and keep time and costs down during construction.
How we deliver our BIM Services – Off or On-Site
All our services can be performed at our own office, communicating via web-based collaboration tools, video calls and traditional phone calls.
However, we also believe that for certain endeavors a personal presence is required in order to increase communication, thereby maximizing efficiency. ENG designed a unique On-Site support business model, where we can provide on-site support by sending our BIM professionals to work at your office or in the field for a period of time (from a few weeks, months or even years at larger projects); while the rest of the team at ENG supports you from our offices.
We also offer different types of contracts to suit your needs, such as Time and Material, Lump Sum and Full-time engagements. Please contact us to discuss your next BIM project.