Besides Authoring BIM models, ENG can act as the project's BIM Manager, from Design, Construction and through handover for Operations.
We can create the contractual BIM requirements for the different stakeholders, create and maintain the BIM Execution Plan or BEP, lead both Design and Construction BIM Coordination processes, and monitor all parties' follow through and deliver as per requirements and BIM execution plan, throughout the entire project's lifecycle.
The BEP will define the level of detail (LOD) to be modeled, file exchange processes, naming standards, the roles the different parties play in the modeling process, etc. The more thorough the BEP is prior to work commencing, the more smoothly the entire project will go. ENG can assist in developing a BEP that meets both the GC and the team's needs.
The BIM Execution Plan (BEP) documents the standards and protocols for the team (GC, AEC Firms and others) to work together in the design and construction of a project.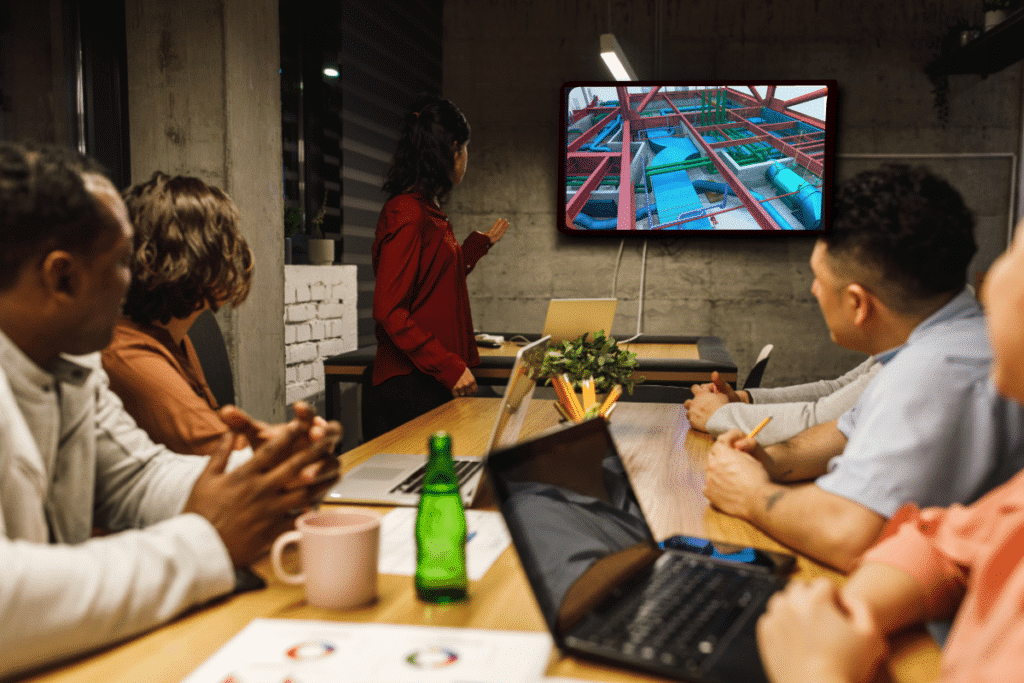 BIM Coordination Process
One of the most important goals of the utilization of BIM is the physical coordination of systems between disciplines, along with efficient and proper installation in the field.
The ENG BIM Coordination process involves:
Clash Detection reports
Constructability reviews
Virtual and/or personal Coordination meetings with architects, engineers, consultants, construction manager(s) and sub-contractors.
Individual project schedules, Gantt charts, email alerts, documentation hosting, RFI logs, and project specific group contact lists are all smoothly integrated into one easy-to-use, easy-to-access site.
Acting as the project´s Lead BIM Pre-construction Coordinator is also an usual role within our scope. When performing Lead 3D Spatial Coordination, our goal is to develop, in collaboration with all stakeholders, a combined coordinated construction model to avoid re-work, delays and change orders in the field.
We unify the Architectural and Structural BIM models with those created by the different MEP Trades. We run clash detection and visual walkthroughs with Autodesk® Navisworks or BIM 360™ Glue, to resolve not only collisions but other aspects related with clearances for installation, proper space for maintenance, and so on. We lead the weekly coordination meetings, and make sure updates on the models are followed through, until reaching Signed-off Models that are ready for shop drawings creation.
ENG is fully capable of organizing and running the Coordination phase of a construction project. We have already led modeling and coordination efforts on dozens of multi-million sf. projects.
Benefits of BIM Coordination for Contractors
For contractors, the "low hanging fruit" for return on investment includes:
Improving construction costs by identifying and correcting clashes and constructability issues before the construction team is onsite
Increasing the chances of winning a project bid by showing thoughtful design approaches using the visualization techniques inherent in BIM-based renderings
Reducing the number of change orders, which reduces administrative expenses and processing time during construction
Allowing more fabrication to happen off-site, greatly improving yard management activities
Third-party BIM Model Auditing
During the course of any project, it is always convenient and useful to verify the consistency of the information contained within a Building Information Model (BIM). Failure to audit the BIM will undoubtedly result in unreliable output data and, by extension, generate false reports.
To obtain trustworthy output from BIM, all documentation must be constructed while respecting certain practices, standards, and Levels of Development (LOD). Output includes Construction Documents, Constructability Analysis, 3D Coordination, Bills of Materials, 6D/7D Facilities Management models. It's good practice to have an objective third party validate all BIMs developed at key points throughout a project.
With the vast experience that ENG holds in creating and validating BIMs, we can review whether designs to ensure specific methods (level of detail, naming standards, and other design criteria) are properly documented. ENG can serve as your outside neutral third-party to perform BIM validation. In addition, our BIM validation methods can coach a design team on the improved use of the BIM software
How we deliver our BIM Services – Off or On-Site
All our services can be performed at our own office, communicating via web-based collaboration tools, video calls and traditional phone calls.
However, we also believe that for certain endeavors a personal presence is required in order to increase communication, thereby maximizing efficiency. ENG designed a unique On-Site support business model, where we can provide on-site support by sending our BIM professionals to work at your office or in the field for a period of time (from a few weeks, months or even years at larger projects); while the rest of the team at ENG supports you from our offices.
We also offer different types of contracts to suit your needs, such as Time and Material, Lump Sum and Full-time engagements. Please contact us to discuss your next BIM project.