As our #1 value focuses on Field execution and its necessities, we are constantly looking for new and improved ways of approaching and facilitating construction. This article serves as a roadmap, outlining our recipe for success in Electrical BIM Modeling.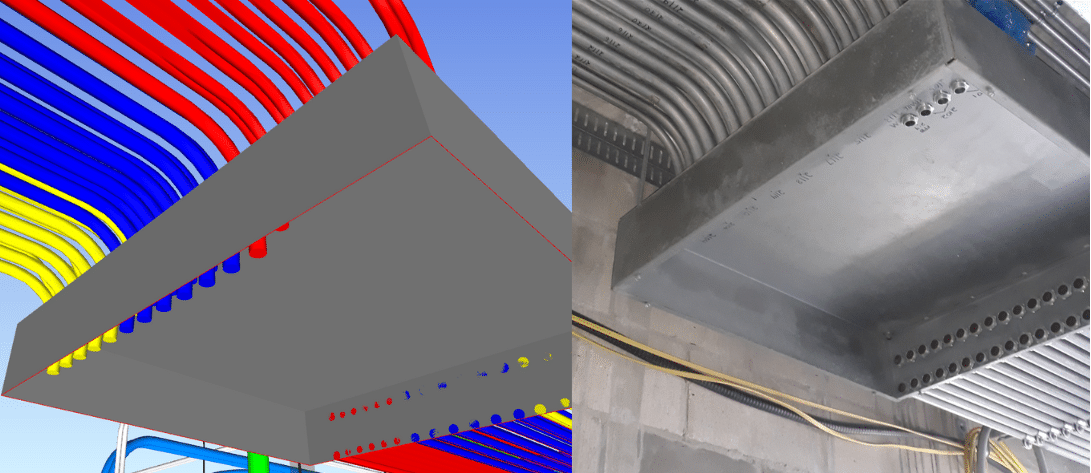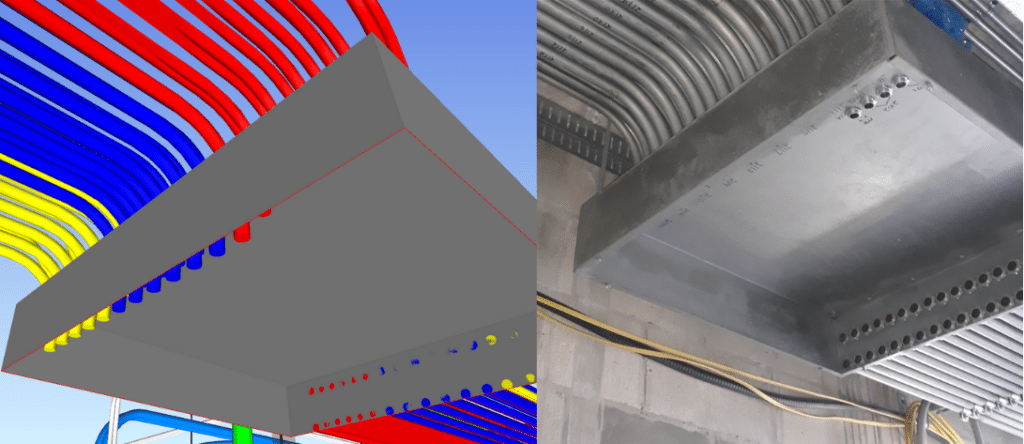 Electrical BIM Modeling: The process
Working closely and collaboratively with all branches from design to installation and prefab allows for a better flow and a greater end-result on all accounts. A key factor is gathering and constantly communicating with Foremen, Engineers, and Technicians to fulfill each and everyone's needs.
Let's delve into the roadmap. Here is how:
Drawing Interpretation: At all stages of the process, markups and comments will always come up. From Forman's in the field showing their issues, to design mark-ups to better accommodate new features. We need to take them, understand them, and find the best possible solution to then include them in the model. In case we don't receive redlines we propose routes and validate them with the Foremen.
Thorough Analysis and Review: There are no two projects alike. Each project has its own strategy, Specs, demands, and complications. Ensuring a solid foundation, taking its necessities, NEC requirements and best practices into account will ensure our subsequent modeling it more than up to what is required.
Strategic Modeling: With a deep and thorough understanding of the project needs and requirements, we move towards modeling. Bringing unique and time-saving add-ins together with years of experience in the field. Resulting in a model that is adjusted to the demands of the client providing a model that comes as close to reality as possible.
Coordination and Implementation: We move on to the most essential step of the BIM process, The Coordination. Here field experience together with a detailed model results in a solution that's not only feasible but also follows the industry's best practices and our field crew's requirements.
Deliverable Creation: Project's finish up, the coordinated and detailed model gets presented in comprehensive, fully detailed layouts. Bringing all the information required by the field like schedules, drawings, enlarges and so on. All for a smooth and straight forward construction.
Check out the video that showcase this process!
Why opt for Our BIM Process?
Facilitating Field Work: We design our BIM process to simplify on-site operations and maximize efficiency, making your field work easier than ever.
Precision at the Core: Attention to detail remains our guiding principle, ensuring our models mirror real-world scenarios with pinpoint accuracy.
Time and Cost Efficiency: By identifying and addressing issues early on, we curtail rework, enhance resource utilization, and expedite project completion.
Collaboration Driven: Open channels of communication and seamless collaboration are our hallmarks, aligning every stakeholder and streamlining decision-making.
To summarize, BIM modeling is a transformative force in modern construction, revolutionizing the way we plan, execute, and complete projects. By embracing this technology and adopting our meticulous Electrical BIM process, you can elevate your construction endeavors, simplify fieldwork, and embark on a journey towards greater efficiency and precision in the ever-evolving construction industry.
As BIM experts, we are committed to helping contractors, subcontractors, and engineers to make it easier. Check out our MEP BIM Services and our Portfolio to see it!
Want to incorporate our Electrical BIM process into your project? Contact us now and request a quote!