A few months ago, Construction Tech Review magazine, received various nominations from several industry experts to consider ENG among the Top Building Information Modeling Companies.
This was followed by a detailed evaluation conducted by Construction Tech Review's managers and their editorial board. Some of the parameters they took into account were experience, market reports, case studies, social media and innovation.​
After this journey, ENG was finally awarded as Top BIM Company of 2022.​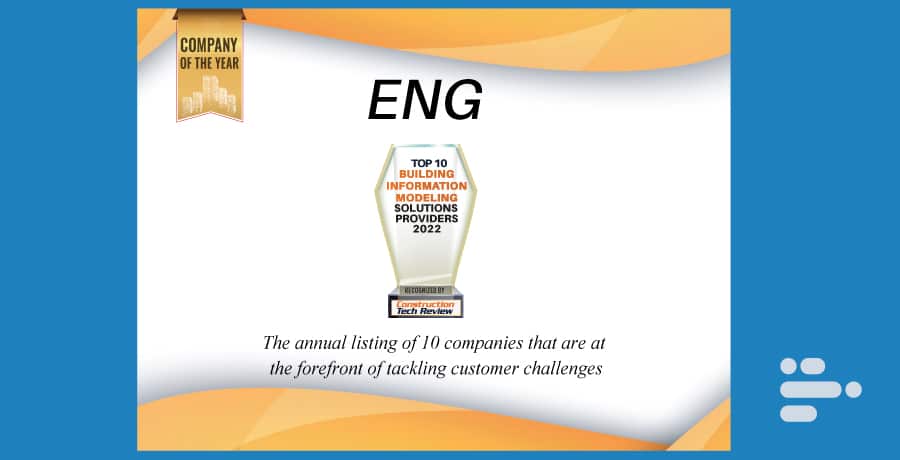 But that's not all! We're privileged to announce that they also decided to name us Best BIM Company of the Year. This recognition is an appreciation of the quality of our services and the hard work of our top-tier BIM Specialists. We share this remarkable mention with pride and gratefulness, as it is the outcome of all of ENG's innovative, diligent, and efficient work.
Browse through the complete ranking here. You can also check out the interview our CEO gave to Construction Tech Review, here.
All the hard work, our #ENGWay and the constant innovation implemented in every project are paying off.​
Special thanks to our team, partners and clients for making this possible!
About Construction Tech Review Magazine
It is a renowned news platform that offers compelling articles full of interesting information and trends from the construction industry to its global audience. Their current BIM Special Issue acknowledges ENG for the variety and quality of our services, our determination to develop innovative tools for the industry, and for our true commitment to reshaping the construction industry by leveraging BIM Technology.